Background: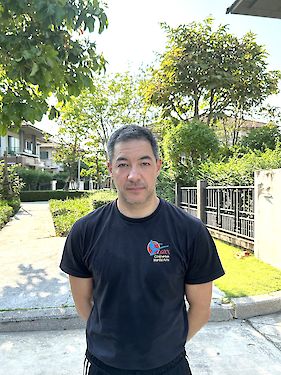 I started training in martial arts with KIXX in 2001. I have practiced a range of arts including chang chuen, tai chi, boxing, pushing hands, san shou, jeet kune do, and wuzuquan.
I left the UK in 2004/2005 and sought out different schools and styles. There were few alternatives that I benefited from as much as KIXX, and I found more value in the forms and conditioning training on my own. I was able to train further in China and Malaysia but always stayed connected to KIXX, training on visits back to Maidstone and when Nigel and Tracy came out East. I am now based in Thailand.
A silver lining from the pandemic was online classes and reconnecting with the curriculum with Nigel and Tracy.
Grade:
1st Degree Black Sash Chang Chuen (Chinese boxing)
Styles of martial arts practising:
Chang chuen
Nan Shaolin Wuzu quan
Wuji quan
My Goals:
Continue to learn and enjoy, and share both.