Remembering Shizu Han Jin Yuan
It is with great sadness that we announce the passing of our Grandmaster Han Jin Yuan on Sunday the 11th June 2023.
We would like to send the deepest sympathy and condolences to his family.
He will be missed by everyone here at KIXX Martial Arts Club. His frequent courses and gradings have allowed many of the members to get to know him well. His skills, his stern side, his sense of humour and the generous, caring side of his nature. He was very highly respected for all of these reasons.
He now joins Shizu Xu Jin Dong and Shizu Lian Xian who will, no doubt, be very pleased with the way he has both built and passed on their legacy...
Some words from International friends...
The Chee Kim Thong Pugilistic and Health Society, Kuala Lumpur, Malaysia.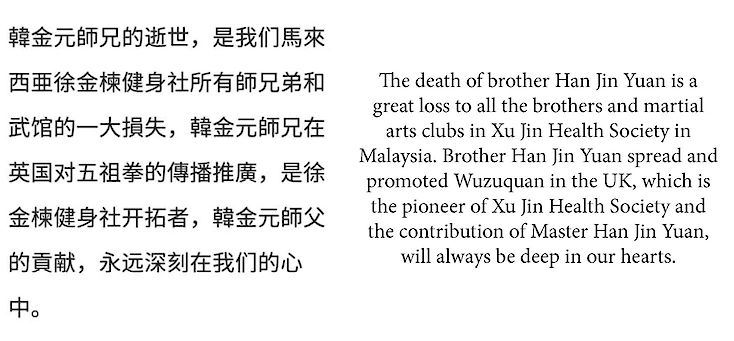 The International Nan Shaolin Wuzuquan Friendship Association, Quanzhou, China.
The Abbot of the Nan Shaolin Temple in Quanzhou, China.